Favorite Local Spot in Pittsburgh/Ligonier: I don't have one. There are too many! Evergreen Drive-In Movie Theater in Mount Pleasant, They allow you to bring your dogs! The Rex Theater on the Southside. If there is a bluegrass band in town, there is a good chance you will find me there at the show with my husband. Ligonier's Saturday morning Farmers Market, Manor Theater in Squirrel Hill, Pittsburgh Barbecue Company, Pipers Pub and Hidden Harbor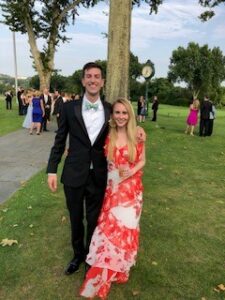 Favorite Annual Event in or around Pittsburgh/Ligonier: I have so many! Just to name a few… Fort Ligonier Days, The Big Art Party: The Westmoreland Museum of American Art, The Children's Home of Pittsburgh Shake Your Booties Event, Deutschtown Music Festival
Name and breed of pet: Taco, the  French Bulldog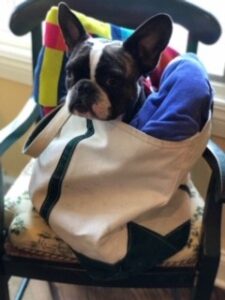 Favorite Hobby: I don't know if you would call these hobbies but here are a few things that I love to do when I am not at work:
My husband and I love to travel together any chance we get. We have visited places like St. Augustine, FL , South Africa , Ashville, North Carolina , Lisbon, Portugal, San Sebastian, Spain , Paris, France , Boston, MA , Chicago, IL , Madrid, Spain , Scottsdale, AZ , Kansas City, KC , Charleston, SC , Tulum, Mexico, Zambia, Zimbabwe and Botswana and we have plans to go to Guatemala in the fall.
Pilates Class (Solidcore), I took a class with my sister and it was the most challenging fitness class that I have ever taken. I like to be challenged and that is probably why I keep going back.
I love to read, listen and see everything related to horror. I love going to Manor Theater in Squirrel Hill or Harris Theater downtown to catch an Indie Horror film with friends and family.
Favorite Recipe (link if necessary): Lime Chicken Tortilla Soup:
https://www.bhg.com/recipe/lime-chicken-tortilla-soup/
Beer/Wine Pairing: Any Mexican Beer or a Margarita or Mojito
Favorite Cocktail (& recipe for it, link): https://www.bonappetit.com/recipe/margarita